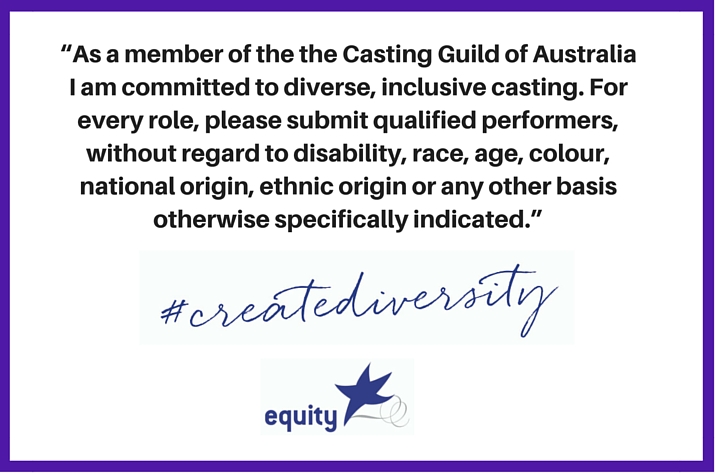 Following extensive consultation with the Equity Diversity Committee, the Casting Guild of Australia (CGA) has adopted a diversity policy that will now be included on their website, Facebook page and in CGA members' casting briefs and email signatures.
Equity Diversity Committee co-chair Bali Padda said by adopting this diversity policy, the Casting Guild of Australia acknowledges the true diversity of our performing arts community and the society we represent on screens and stages.
"This active inclusion of diverse communities is a fantastic move forward. We keenly anticipate a future in which all facets of our industry take a similarly strong stand for diversity, creating opportunities that have previously been out of reach for diverse performers. The inclusion of a diversity statement on casting briefs will provide the trigger for agents to cast a wider net when considering which of their performers might be suitable for a role."
The CGA has notified all members of their new policy.
For CGA Website & Facebook page:
"As members of the creative performing arts community, we all have a role in creating stories that reflect the diversity of the world in which we live. To that end, and in an effort to deliver more diversity in Australian film, TV and theatre, CGA members will, wherever possible, include and engage with diverse thinking and actions in all aspects of the casting process."
For CGA Members' Casting Briefs:
"As a member of the CGA, I am committed to diverse, inclusive casting. For every role, please submit qualified performers, without regard to disability, race, age, colour, national origin, ethnic origin or any other basis otherwise specifically indicated."
For CGA Members' Email Signatures:
"As a member of the CGA, I am committed to diverse, inclusive casting."
Equity congratulates our Diversity Committee and the CGA's Executive Committee on this major step forward for our industry.